---
Recommended Link:
Is THIS Where the Next Bull Market Will Be?

According to Business Insider, the stage is set for "a great new bull market in 2023, but now where most investors expect." One world-renowned stock expert – a man whose analysis has appeared in the Wall Street Journal, the San Francisco Chronicle, Fortune magazine and more – believes you could pocket 100% to 800% gains as this "invisible" bull market gets underway. Click here to learn more…
---
1) In last Monday's e-mail, I highlighted the bearish sentiment among investors and the resulting pullback in stocks, which is often a sign that it's time to start buying, but I concluded:
To summarize, stocks are back to their mid-June lows, but the macro environment is quite a bit worse, so I'm waiting for another 5% to 10% pullback before I call the bottom.

It reminds me of one of Ronald Reagan's favorite jokes:

Two Russians are walking down the street, and one says, "Comrade, have we reached the highest state of Communism?" "Oh, no," the other replies. "I think things are going to get a lot worse."

To be clear: I don't think things are going to get a lot worse, so I'm certainly not selling anything. It just feels to me like mid-May, when stocks were beaten up – but still had one more leg down before bottoming...
Sure enough, the S&P 500 fell 2.9% last week...
I don't think we're at a bottom yet, but the incessant doom and gloom on CNBC and elsewhere indicates that we're getting close.
---
Recommended Link:
| In 2012, Whitney Tilson saw the convergence of the Internet, faster data transmission, and a new business model in an entertainment company. He was extremely skeptical, so he flew to California and had lunch with the company's founder and CEO. Whitney soon became a huge believer, going on live TV to tell everyone that the company was a "screaming buy." A year later, the stock was up six-fold... the beginning of a run that ended up being an 8,791% gain in only nine years. He's seeing a similar convergence happening right now in the world of e-commerce. Here's what you need to know to take advantage of this decade's biggest trend. | |
| --- | --- |
---
2) I'm hearing lots of talk that we're on the verge of a financial crisis like 2008, which would no doubt cause stocks to plunge another 30% or more, but this is a totally misguided comparison.
I should know, as I nailed the global financial crisis. As it was just starting to unfold, I was shouting from the rooftops – warning anyone who would listen that things were going to get very ugly.
As early as March 8, 2008, I put together a 75-slide presentation (posted here) entitled "Why We Are Still in the Early Innings of the Bursting of the Housing and Credit Bubbles – And the Implications for MBIA and Ambac." I concluded:
In summary, today we are only seeing the tip of the iceberg: an enormous wave of defaults, foreclosures and auctions is just beginning to hit the United States. We believe it will get so bad that large-scale federal government intervention is likely.
As I continued updating my presentation and warning investors, everything I predicted came to pass. This caught the attention of 60 Minutes, which featured me in a segment that aired on December 12, 2008: A Second Mortgage Disaster On the Horizon?
While the segment, which ended up winning an Emmy, highlighted losses that were sure to come in the housing market, I had actually started to turn bullish, as I explained to anchor Scott Pelley:
"Does that mean that the stock market is gonna continue plunging as we've seen the last several months?" Pelley asks.

"Actually we're the most bullish we've been in 10 years of managing money. And the reason is because the stock market, for the first time I can say this, in years, has finally figured out how bad things are going to be. And the stock market is forward looking. And with U.S. stocks down nearly 50% from their highs, we're actually finding bargains galore. We think corporate America's on sale," Tilson says.
I was three months early, as the market didn't bottom until March 9, 2009, but I remained bullish. Just a couple of weeks later, I appeared on CNBC's Fast Money, which had nicknamed me the "Prophet" for the accuracy of my predictions: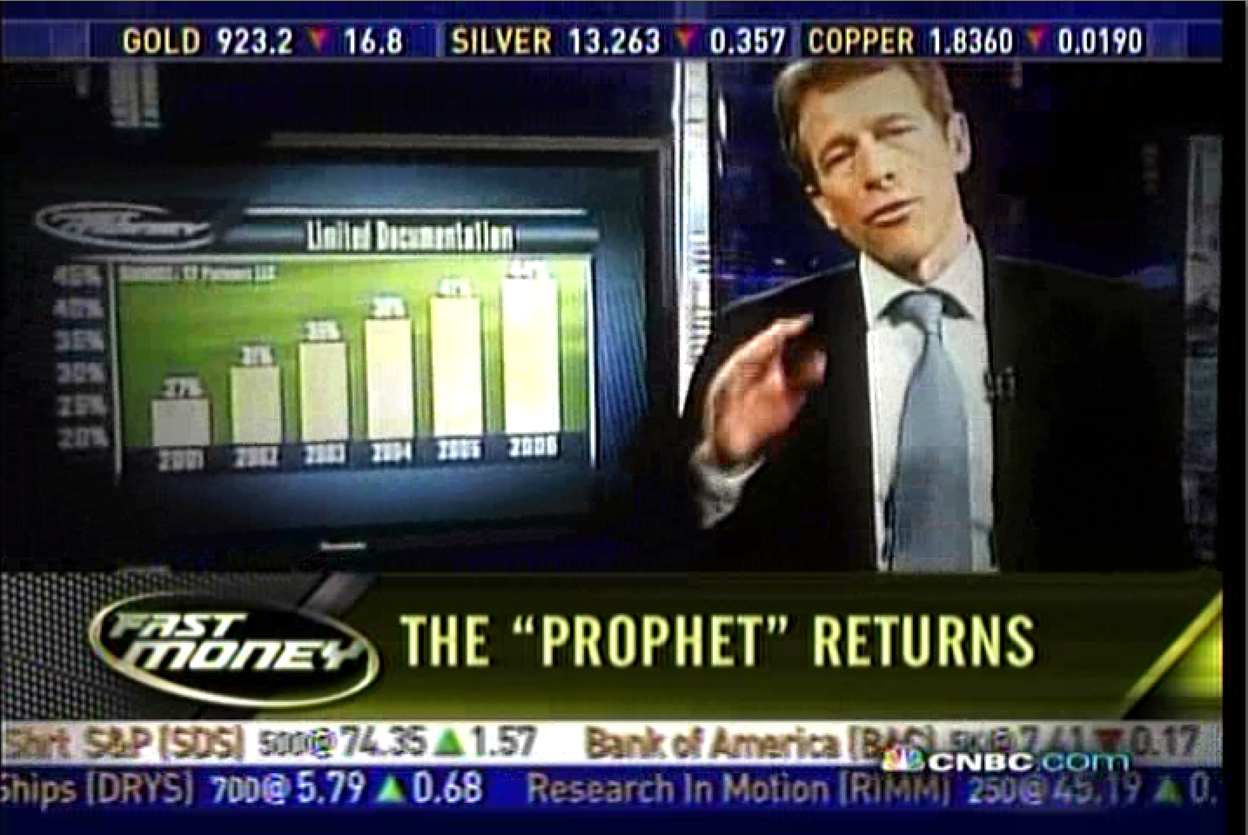 But rather than doubling down on my bearish call a year earlier, I said:
Valuations have compressed so much that some things we were short, we've flipped around and gone long, Wells Fargo (WFC) being the most noteworthy example. We're also long American Express (AXP).
And in an updated presentation I released publicly on March 30, 2009, I highlighted many of the stocks we were buying hand over fist: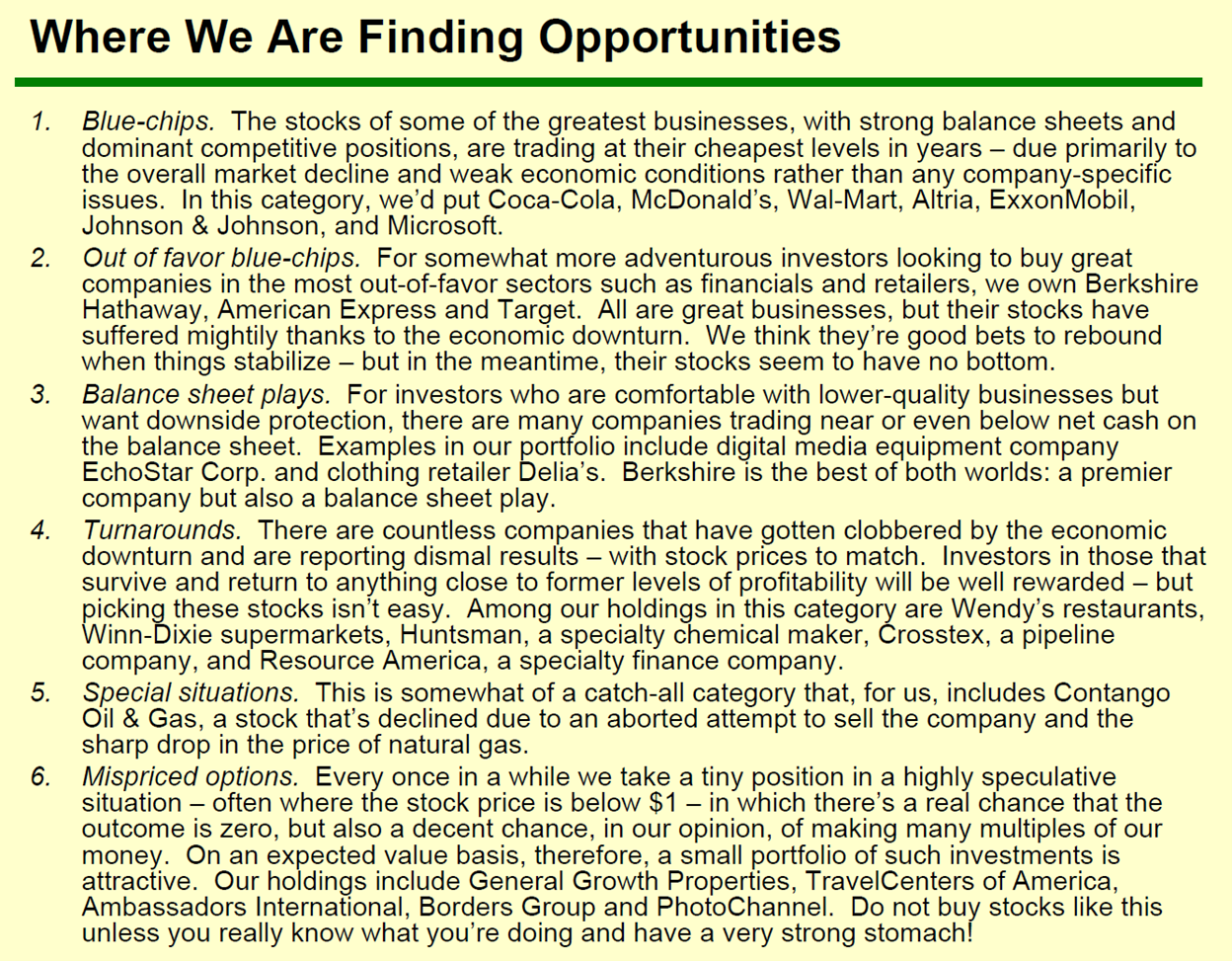 So with the housing market once again slowing dramatically, after a huge 40% run-up in the past two years, as I outlined in Friday's e-mail, why don't I think history is going to repeat itself?
To answer that, let's look at this slide from my presentation back then: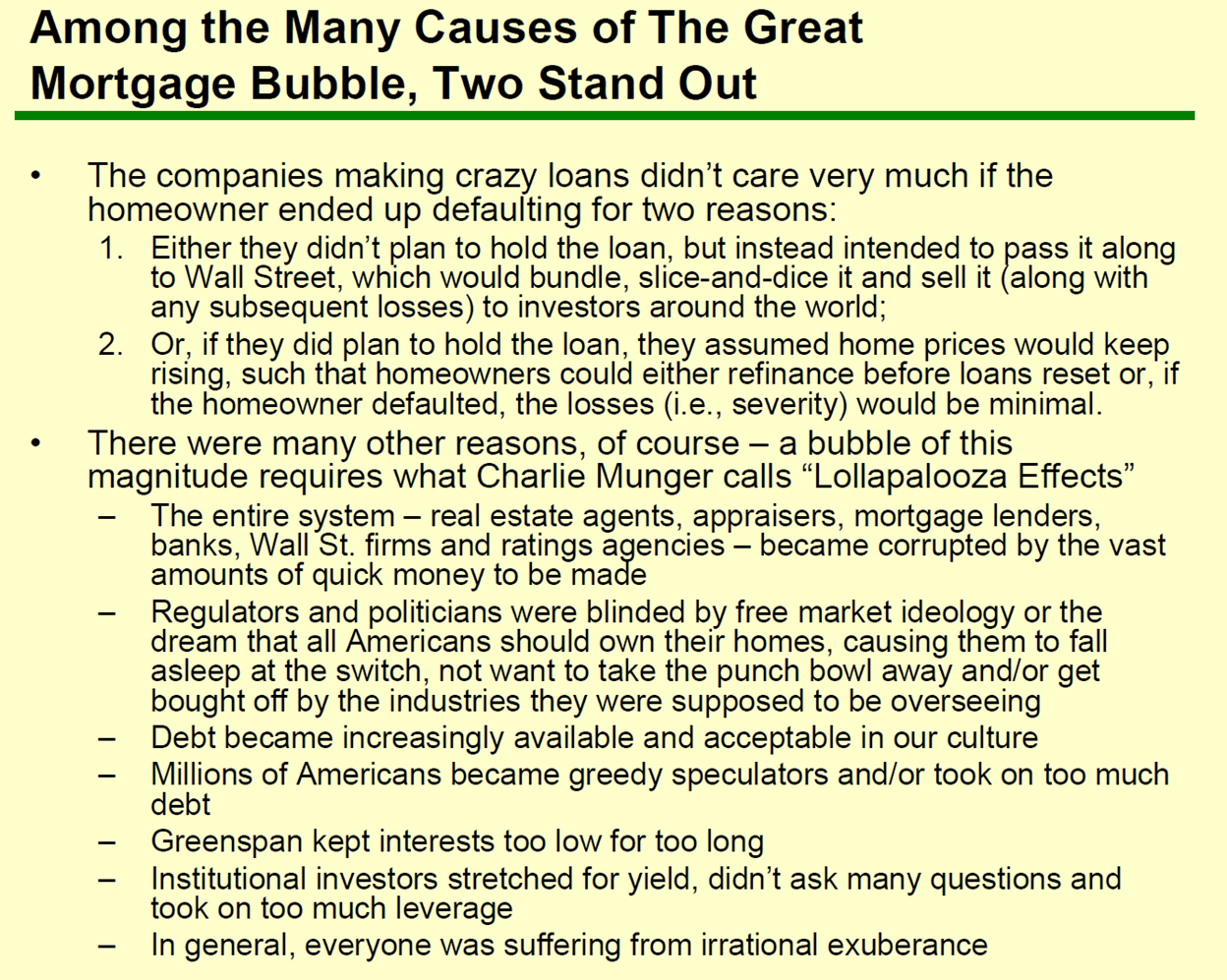 To this list of nine factors, I would add three more (the latter two of which I didn't know about at the time): Banks were highly leveraged, there was an extreme amount of fraud in the underwriting of mortgages (e.g., NINJA loans – no income, no job, and no assets), and an equally extreme amount of hidden leverage (e.g., off-balance-sheet entities, derivatives, credit-default swaps, etc.). These last two factors were "unknown unknowns" that caused investors to panic.
As I review this list of a dozen factors, I would argue only one clearly occurred in recent years: The Fed kept interest rates too low for too long. Yes, there was some irrational exuberance and speculation here and there... But, trust me, it was only a tiny fraction of the insanity leading up to the global financial crisis.
And the differences are vast: Regulators have been tough, so there's almost no fraud in our financial system, and banks are well capitalized.
In summary, I think the odds of a financial crisis here are very low, which is one of the reasons I think we're getting close to a bottom.
3) My wife, two daughters, and I are doing a 13-day trip to Antarctica from December 22 to January 3.
My sister booked and paid for the trip for herself and her son, but they can no longer make it, so she's looking to sell her two tickets at cost, which is $11,275 per person for a "twin porthole" cabin (picture below, and the ticket cost doesn't include round-trip airfare to/from Ushuaia, Argentina). That's a lot of money, but believe it or not, it's actually a bargain given inflation in the past year and the price of most other ships plying the region.
If you're interested in taking their place and joining us, please e-mail me at: [email protected].
As with almost all Antarctic tourism, we'll be based on a cruise ship (picture below), but there are lots of onshore activities – including getting up close and personal with penguins, camping on the ice, kayaking, mountaineering, snowshoeing, and an ice plunge for the really adventurous.
My colleague Herb Greenberg did an Antarctic cruise with his wife five years ago and raves about it – he told me, "It's an amazing, once-in-a-lifetime experience. Do it before Antarctica melts!"
Here's a website with details about the trip, Antarctic Basecamp Adventure, and here are some pictures: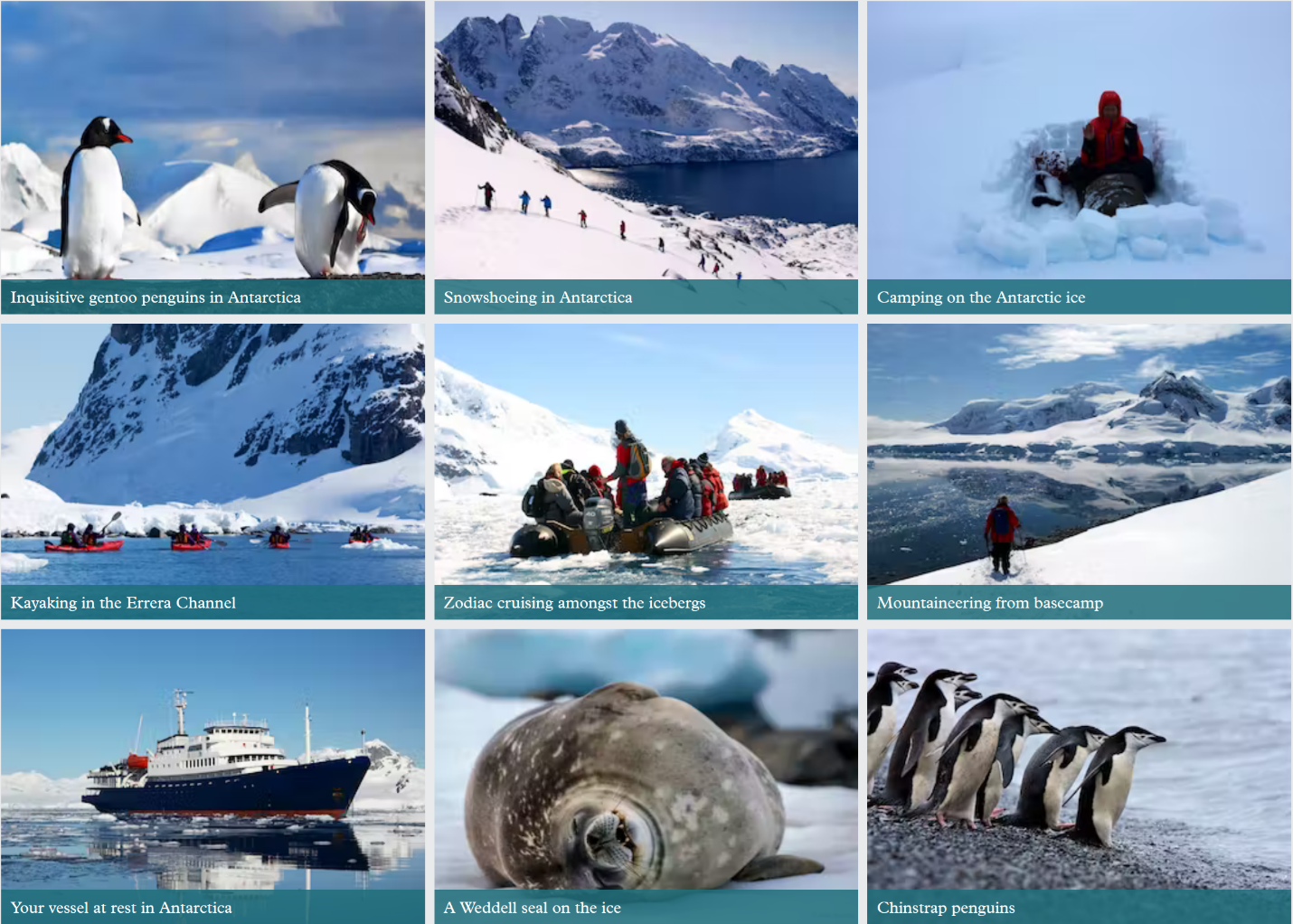 Here's a picture of the ship (more info here):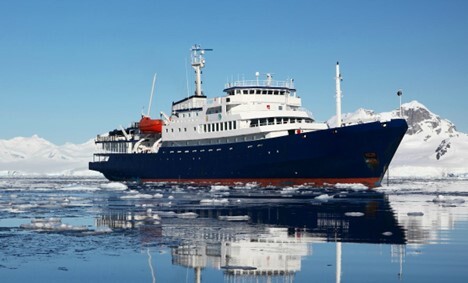 And here's what the cabin my sister booked looks like: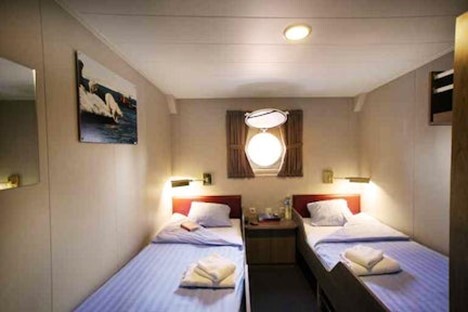 Best regards,
Whitney
P.S. I welcome your feedback at [email protected].