If you take drugs for anything chronic, you'll fully understand what I'm about to say...
When I saw the recent news that the Federal Trade Commission ("FTC") was going to investigate pharmacy benefit managers ("PBMs"), I thought, "It's about time."
Talk about cartels...
In the murky world of drug pricing, the PBMs are the middlemen – or as the FTC puts it, the "powerful middlemen."
The biggest PBMs – CVS Health's (CVS) Caremark, Cigna's (CI) Express Scripts, and UnitedHealth's (UNH) OptumRx – control an estimated nearly 80% of the market. The latter two are owned by insurance companies, while CVS owns an insurance company.

It has all become so intertwined and convoluted...
Or as my friend Bill Keep – the former dean of business at the College of New Jersey – puts it, "What could possibly go wrong?"
Under the guise of helping make drugs more affordable, PBMs seem to do just the opposite – often determining what drugs you can take and how much you will pay. Or as the FTC said in its press release announcing the investigation...
In these roles, pharmacy benefit managers often have enormous influence on which drugs are prescribed to patients, which pharmacies patients can use, and how much patients ultimately pay at the pharmacy counter. Many of these functions depend on highly complicated, opaque contractual relationships that are difficult or impossible to understand for patients and independent businesses across the prescription drug system.
And it's not just the effect this has had on consumers...
The PBM cartel has also been a thorn in the side of the few remaining local independent pharmacists. Just ask B. Douglas Hoey, CEO of the National Community Pharmacists Association. In reaction to news of the investigation, Fierce Healthcare quoted him as saying...
PBMs behave like monopolies. Their secretive, anticompetitive practices increase prescription drug prices, limit consumer choice, and stymie competition. They've escaped serious scrutiny for far too long, but this study will bring their dirty laundry out into the open.

You've likely experienced it yourself...
Your doctor prescribes a certain drug, and then your insurance denies it – or charges an egregious price – because it's not in the "formulary."
Then your doctor (who by now has hired extra staff to do this – further pushing medical costs higher) has to jump through hoops to justify why you should have that specific drug, never mind not being charged an egregious price... and that's on a generic.
I've asked this question for years, so I'll ask it again...
How did the middleman between the pharmacy and the insurance company become so powerful that it could dictate what drugs you take?
The answer is simple: Lobbyists.
Consider that last year, according to Open Secrets, the Pharmaceutical Care Management Association spent $7.8 million on lobbying. Through March of this year, the figure stands at nearly $3 million... and with the FTC's probe, it's likely to rise.

Meanwhile, back in October, in a rant on drug pricing for Medicare, I mentioned that I had learned about GoodRx (GDRX) as an alternative at chain pharmacies...
I started using it, and it saved a ridiculous amount of money on certain drugs.
Just the other day I was talking drug prices with a friend, who like me is on Medicare. She had wondered if I had heard about this thing called... (drumroll) GoodRx!
The drug-pricing issue has hit the point where everybody seems to be looking for workarounds.
But in this murky world of drug pricing, even GoodRx's steep discounts are tied to its own relationships with smaller PBMs, which has led to other issues...
More to the point: GoodRx claims it has been hurt by one grocery chain that wouldn't accept discounts from "most PBMs" for a subset of drugs.
This is interesting, because as I mentioned back in April, on multiple occasions I've gone to pick up something, whipped out my GoodRx app, and had the pharmacy – ironically, initially at a grocery store – and the store undercut GoodRx by a few pennies.
Subsequently, it happened at CVS, and I heard from some readers who mentioned they've been switched at the counter by CVS and others.

It's impossible to know what's really going on, but the dynamics of that relationship have hit GoodRx... hard.
Since I first mentioned the company back in October as an alternative to high drug prices, its stock has plunged more than 83%.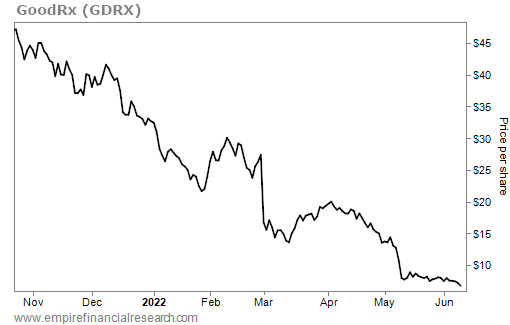 GoodRx claims to be working through the issues but also acknowledges that real damage has been done. As co-CEO Trevor Bezdek explained during the company's first-quarter earnings call last month (emphasis added)...
This issue impacts us though because returning users sometimes go directly to the pharmacy without first checking GoodRx. While we expect to reach these users, it will take time and we may not reach them all. As such, we expect a decrease in returning users at that grocer. We expect this issue to have a material impact on our Q2 and full year prescription transactions revenue.
And Bezdek is only talking about the effect at a certain grocery... not the switches being done at other pharmacies with ties – or ownership – of their own PBMs.

This gets us back to the FTC...
If the regulator does more than mere grandstanding with a press release regarding its PBM investigation, the results could be profound... with long-term effects on drug pricing. However, given the PBMs' power, political ties, and ability to lobby, I'm not holding my breath.
In the meantime, drug pricing remains a mess. It's best summed up by this comment by one of my followers on Twitter, who responded to something I tweeted by writing...
I had a disgusted local pharmacist tell me off the record one time, "We have one price for milk and 20 prices for common medicines."
Exactly.
As always, feel free to reach out via e-mail by clicking here. And if you're on Twitter, feel free to follow me there at @herbgreenberg. My DMs are open. I look forward to hearing from you.
Regards,
Herb Greenberg
June 10, 2022