1) This is yet another sign of the foolishness that's running rampant in our markets: The Social-Media Stars Who Move Markets. Excerpt:
Along with the rise of commission-free online trading has come demand for advice at the lowest price in the most accessible place: free, and online. Now, a new generation of Jim Cramers has risen up on social media with massive followings as guides to these market newbies.

Many of these influencers have no formal training as financial advisers and no background in professional investing, leading them to pick stocks based on the whims of popular opinion or to dispense money-losing advice...

Cameron Newell, aka CamTheMan, a college dropout from central Washington state, started trading penny stocks full-time about three years ago and says he earned $5 million last year from day trading. He doles out stock tips on TikTok and hosts a chat group on Discord – the social app commonly used by videogame enthusiasts – where followers can track and copy his trades...

Generation Z – roughly the cohort born between 1992 and 2002 – is more likely to respond warmly to cultural signifiers of wealth like fancy cars and high-fashion clothes than they are to business degrees, financial certifications or a perch on a TV-news show, experts say. For that reason, there is big potential for fraud and financial ruin, said Ted Klontz, a professor of behavioral finance at Creighton University.

"A lot of this world is a real snake pit, and it's really scary," Mr. Klontz said. "The human brain doesn't come into full maturation until age 25. Anyone under that age is highly influenceable. We know that day trading does not produce long-term wealth for the vast majority of people who do it, but these influencers are preying on that part of the human brain that has fewer inhibitions, that thinks: 'I will be the exception.' And that leads to speculation and other kinds of very high-risk behavior"...

Like most Internet content, influencer videos thrive on popularity. And in the midst of a long-running bull market, what's popular is success stories and hot tips only.

Many influencers report that when they hype an investment, they get the page views they crave. When the message is bearish, however, viewers turn away, or worse, attack the messenger with vicious trolling.

"For their entire adult life, the market has gone up. If you say otherwise, you just don't get it," said Scott Galloway, a marketing professor at NYU who has been trolled himself after posting skeptical videos about companies.

The real danger in the social-media finance world, he says, is that younger influencers tend to believe the market only goes up. Their followers reinforce this message.

"There is a surrender-to-the-narrative-or-else attitude online, and it's really frightening, because if you say bitcoin is overvalued, or Tesla is overvalued or whatever popular SPAC [special purpose acquisition company] is overvalued, these trolls in anonymous accounts come out of the woodwork and start attacking you," Mr. Galloway said.

Critics of cryptocurrency investments are dismissed as spreaders of "FUD" ("fear, uncertainty, doubt") in comment threads by trolls, a way of labeling an influencer as untrustworthy. Female online finance gurus have described sexual harassment in response to negative posts.
If these influencers were using their personalities in conjunction with social media to provide sound investment advice in a fun, approachable way to the next generation of investors, I'd be applauding them – but, of course, that's not what's happening. Rather, they're luring people into the riskiest sectors and behaviors, which is certain to end badly. It makes me want to throw up...
2) My middle daughter, Emily, certainly embodies what this survey shows: The 'Great Resignation' is likely to continue, as 55% of Americans anticipate looking for a new job. Excerpt:
Most Americans expect to look for a new job as the pandemic continues.

Some 55% of people in the workforce, meaning that they're currently working or actively looking for employment, said they are likely to look for a new job in the next 12 months, according to Bankrate's August jobseeker survey...

The survey comes at a remarkable time given the experience of the past year and a half, said Mark Hamrick, senior economic analyst at Bankrate. "There have been a lot of epiphanies and reckonings that have occurred during the time with respect with how we're prioritizing ultimately our values, and of course how work fits into that."

The data confirms trends seen in the labor market recently. While millions remain unemployed, certain industries are struggling to find workers. The unemployment rate fell slightly to 5.4% in July but remains higher than pre-pandemic. Those claiming unemployment insurance benefits fell to a pandemic-low of 2.82 million in the week ending Aug. 14, although it is still elevated.

At the same time, job openings surged to an all-time high of 10.1 million at the end of June, according to the Bureau of Labor Statistics (the data lags the unemployment report by one month.) Separations also edged up to 5.6 million, and the quit rate was 2.7%, just below the April high of 2.8%.
Emily graduated from Wake Forest earlier this year and soon afterward started a job as a Retail Sales Representative in Fairfax, Virginia, for Swiss global food and beverage giant Nestlé. It's a great company, but the job wasn't a good fit for her... so she started looking and quickly got an offer from Madison Square Garden Sports (MSGS), owner of the Knicks and Rangers, working with season ticket holders. She's moving back to New York on Wednesday (living at home, at least for a while) and starts her new job the following Tuesday. Here's to a booming economy!
3) Speaking of college, I've recently spoken with two rising high school juniors, both of whom are well qualified for competitive colleges, and wanted to share with my readers the application advice I gave them.
The plunging admission rates at top schools have led to the widespread perception that it's much more difficult to get into a competitive college than it was a generation ago.
In fact, however, these schools have added capacity in recent decades to almost keep pace with the growing population. So, while admission is indeed somewhat more competitive, the main reason for the falling admit rates is that the average high school student is applying to more than twice as many colleges.
You can see both phenomena in this chart from The Economist: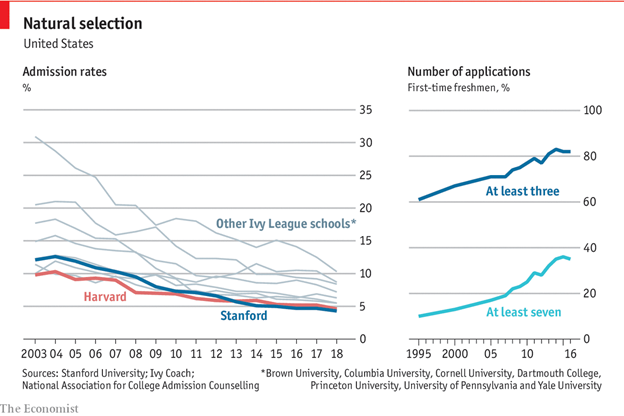 There are a number of important implications stemming from this changed landscape. First, don't get too stressed out. While the odds of getting into a particular competitive school have fallen quite a bit, the odds of getting into at least one competitive school haven't changed that much.
What this means is that you need to cast a wide net – you must find at least half a dozen schools that you'd be happy to attend. Of course you'll have preferences, but don't fixate on just one.
Another implication is that each college's "yield" – the percentage of admitted students who enroll – has plunged. With the average student applying to so many more schools, that's just simple math. But it puts enormous pressure on admissions officers, who are evaluated, in part, on the yield. This has led them to favor early decision ("ED") applicants even more strongly, because, if accepted, these applicants are committed to enroll (i.e., a 100% yield). As a result, many schools are now filling more than half of their freshman class via ED.
This means you need to be even more strategic in how you use ED. Ideally, you can use it to boost your chances of getting into your first-choice school. That's what all three of my daughters did, getting into Carleton, Wake Forest, and Carleton. But you have to be realistic. If you have a 1% chance of getting into your first-choice school, then doubling that to 2% by applying ED is probably a waste because you're still almost certainly not getting in.
One caveat to this is if your more realistic second-choice school has a second round of ED (here's a list of 75 schools, including Wake Forest and Carleton). This allows you to apply early to your long-shot first-choice college, but if you get rejected, you'll still have another bite at the ED apple.
Good luck to all!
4) Happy 91st birthday Warren Buffett! Here's an old picture of us from one of the first Berkshire Hathaway (BRK-B) meetings I attended in 2000: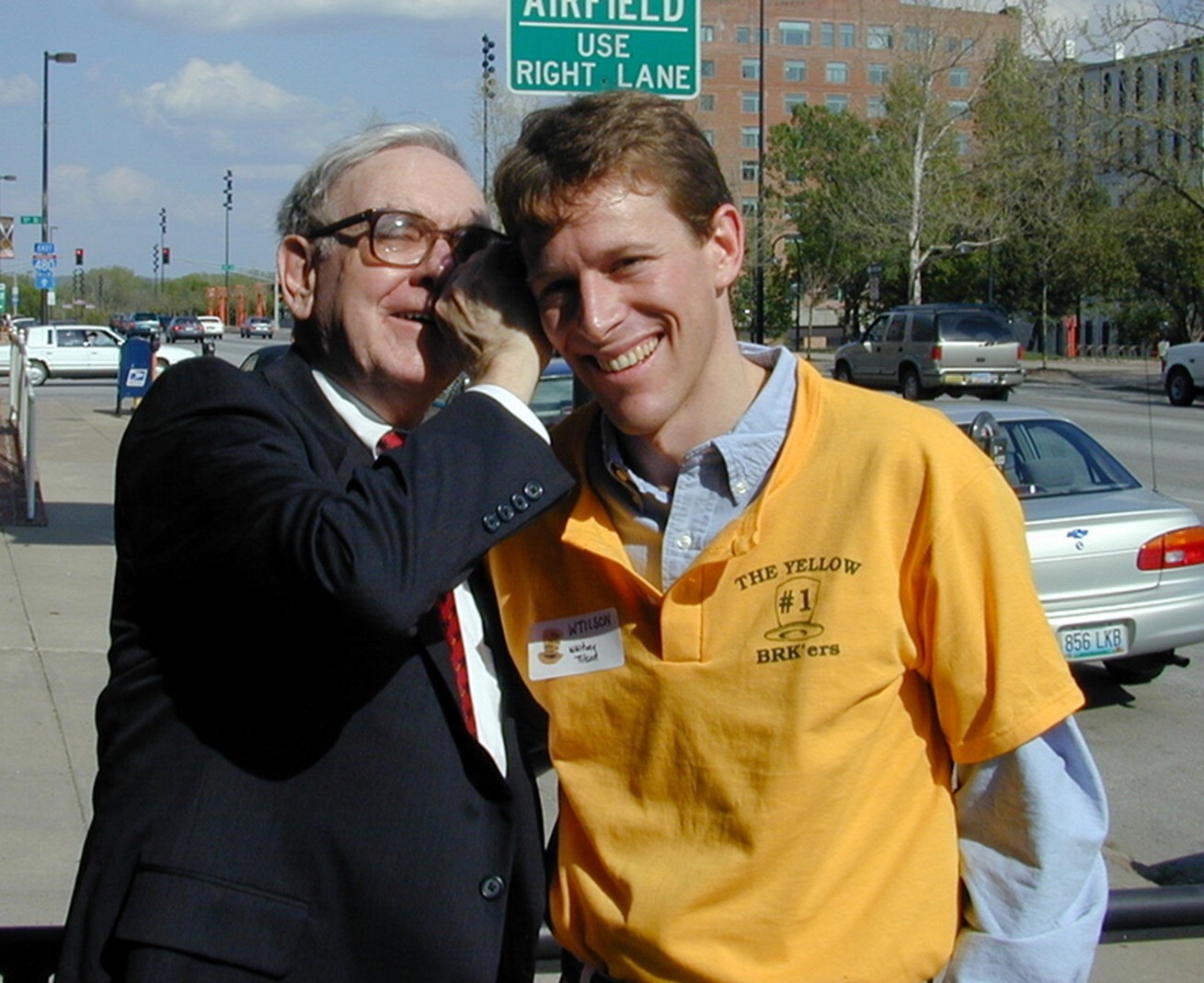 Best regards,
Whitney
P.S. I welcome your feedback at [email protected].