---
Recommended Link:
Is THIS Where the Next Bull Market Will Be?

According to Business Insider, the stage is set for "a great new bull market in 2023, but now where most investors expect." One world-renowned stock expert – a man whose analysis has appeared in the Wall Street Journal, the San Francisco Chronicle, Fortune magazine and more – believes you could pocket 100% to 800% gains as this "invisible" bull market gets underway. Click here to learn more…
---
1) My colleague Enrique Abeyta published an insightful missive in yesterday's Empire Financial Daily, which is especially important when stocks are down and just about everyone has experienced significant losses: Why Psychology Plays a Critical Role in Your Investing Results. In it, he discusses five mental traps to avoid... Excerpt:
It has been a tumultuous year so far, and we've been seeing plenty of wild moves in the markets. So today, let's discuss a few of the biases that have an impact on our investing (and our lives)... and see how we can become better traders by understanding them...

First up is the Dunning-Kruger effect, which states that the less you know, the more confident you are and the more you know, the less confident you are...

Next up is the bandwagon effect, which states that ideas, fads, and beliefs grow as more people adopt them...

Declinism states that we tend to romanticize the past and view the future negatively, believing that societies and institutions are by and large in decline...

The "sunk cost fallacy" is also known as the "escalation of commitment"...

Finally, authority bias says that we trust and are more often influenced by the opinions of authority figures...
2) Speaking of Enrique, the recent market volatility has been perfect for his strategy of hitting lots of quick singles and doubles in his Empire Elite Trader publication. He has been absolutely on fire since July, closing out 18 of 26 trades for gains, including:
31% in six days on an oil ETF
8% in 13 days on Lockheed Martin (LMT)
15% in two weeks on Marathon Oil (MRO)
17% in three weeks on Devon Energy (DVN)
9% in a month on Archer-Daniels-Midland (ADM)
9% in five weeks on UnitedHealth (UNH)
18% in six weeks on Zoom Video Communications (ZM)
9% in seven weeks on Hormel Foods (HRL)
11% in 10 weeks on Bright Horizons Family Solutions (BFAM)
10% in 10 weeks on Live Nation Entertainment (LYV)
8% in 11 weeks on Costco Wholesale (COST)
And this isn't an anomaly...
Over the past three years, Enrique has boasted an 87% win rate in Empire Elite Trader – helping thousands of his readers make steady gains in both bull and bear markets.
To learn more, watch a brief video presentation Enrique put together with all the details – including how to gain a free year of access to his "Quick Cash System" – right here.
---
Recommended Link:
| In 2012, Whitney Tilson saw the convergence of the Internet, faster data transmission, and a new business model in an entertainment company. He was extremely skeptical, so he flew to California and had lunch with the company's founder and CEO. Whitney soon became a huge believer, going on live TV to tell everyone that the company was a "screaming buy." A year later, the stock was up six-fold... the beginning of a run that ended up being an 8,791% gain in only nine years. He's seeing a similar convergence happening right now in the world of e-commerce. Here's what you need to know to take advantage of this decade's biggest trend. | |
| --- | --- |
---
3) Netflix (NFLX) reported strong third-quarter earnings after the close yesterday...
After two quarters of declining subscribers, the streaming giant added 2.4 million net new subscribers – more than double the 1.1 million analysts were expecting – so the stock is popping today.
Netflix is an open recommendation in our flagship Empire Stock Investor newsletter. While we were too early in getting into it, we stuck with it because in a market downturn, it's high-quality, market-leading businesses that will usually lead the way up.
You can get immediate access to our full report on Netflix – along with the entire open portfolio of recommendations – with a subscription to Empire Stock Investor for only $49 for the first year... Get the details here.
4) When I was teaching up-and-coming young investors in 2018, I put together a five-slide presentation on "How to Survive Periods of Poor Performance." Amid the longest bull market in history, I'm not sure how many of my students paid attention then, but it's sure topical now!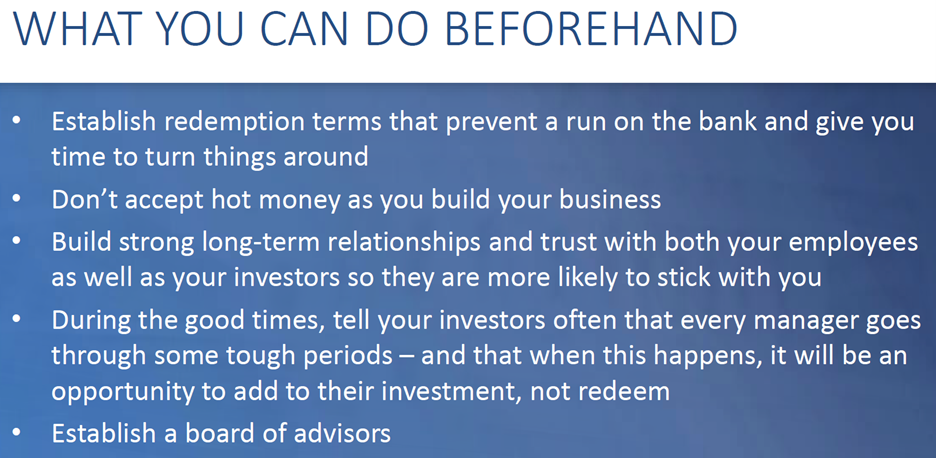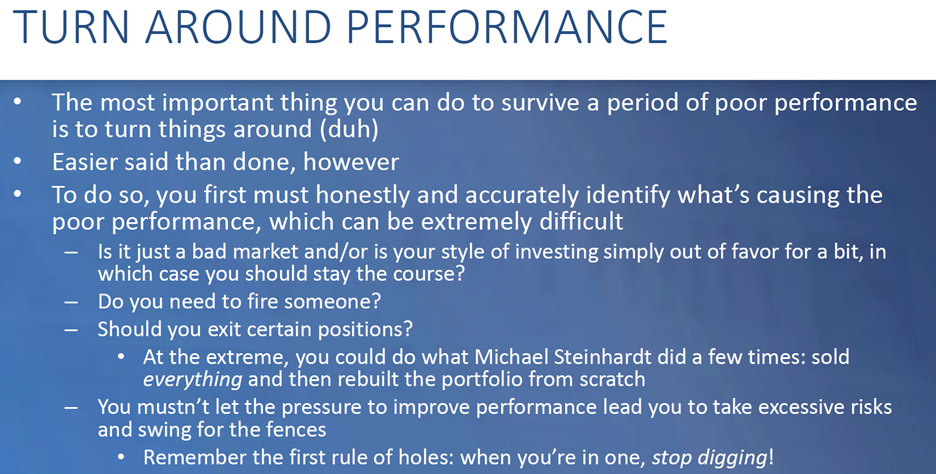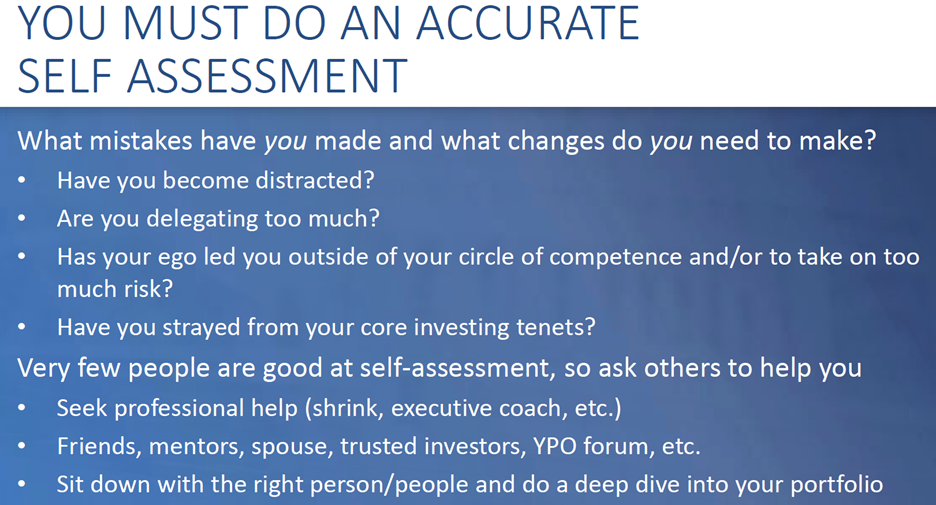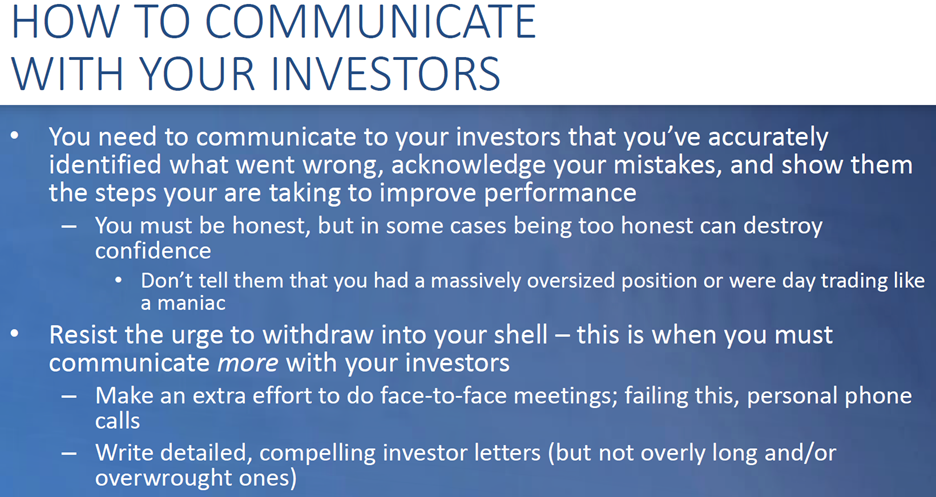 5) I know a lot of people who are on antidepressants and, for nearly all of them, they have been game changers (if not literally lifesavers)... So I was disappointed to read in this Daily Beast article that the same type of people as the anti-vaxxers are out there spreading fear, uncertainty, doubt, and misinformation about antidepressants, which is doing tremendous harm... How the Debate Over Antidepressants Puts Millions in Danger. Excerpt:
Nearly 10% of all Americans will experience symptoms of depression every year. One of the common forms of treatment includes a combination of therapy and antidepressants. According to the CDC, around 13% of Americans over the age of 18 were taking antidepressants between 2015 and 2018. The most commonly prescribed form of these are called selective serotonin reuptake inhibitors (SSRIs), developed to alter serotonin flux in the brain...

Every few years, a new spate of studies pops out from the shadows, supposedly "debunking" the notion of the serotonin hypothesis. These studies suggest that depression is either a result of social factors or caused by traumatic experiences, and that antidepressants either don't work, numb emotions, or actively cause harm. Instead of medication, they believe that depression is better treated solely through therapy.

"The ensuing discussion has boiled over into a full-on debate, pitting mainstream psychiatry against a minority of researchers who don't think antidepressants actually work."

The spats between competing academics and researchers are just as intense and vicious as any other fight that takes place on the internet – featuring Twitter feuds, op-eds for think-tanks, and news outlets themselves. The shady history of the pharmaceutical industry further feeds skepticism around the efficacy of antidepressants. When antidepressant clinical trials didn't bear out the results that were hoped for, drug companies essentially buried the evidence and biased the record in favor of antidepressants – which has only exacerbated mistrust over these drugs and their makers...

Moreover, not knowing a drug's mechanism isn't a good enough reason to prevent its usage if it's demonstrably helping people. "We're very confident that SSRIs work for depression," Tyler Randall Black, a child and adolescent psychiatrist at the University of British Columbia, told the Daily Beast. "There's reams and reams of evidence showing us that they work, but not why they work." McIntrye pointed to the fact that we don't even completely know how Tylenol works either – despite the fact that it's one of the most widely used pain-relievers around the world. Tylenol also impacts the brain in unexpected ways – although it numbs social or psychological pain, it isn't grounds for removing it from the market.

Vilifying these drugs can have unintended consequences because therapy is often unavailable, making SSRIs the only accessible option. "The demand for mental health care far outstrips the available access," Sanacora said, adding that many Americans need to wait months to see a good cognitive behavioral therapist. Additionally, abruptly deciding to stop taking SSRIs can be dangerous: One in five patients who do this will experience flu-like symptoms, insomnia, imbalance, and other symptoms that can last for a year.
Best regards,
Whitney
P.S. I welcome your feedback at [email protected].